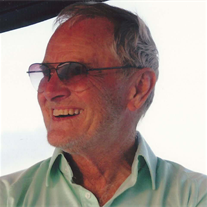 Gary L. Savage, age 77, August 5, 2016.
Gary Savage left this life surrounded by family and supported by love on Friday, August 5, 2016. Gary's life began on May 25, 1939 in Middletown, Ohio. Lebanon, Ohio was his playground under the watchful eyes of his mother, Geraldine, and the entire town. His interest in aviation began early with model airplanes. It grew, as evidenced by trophies and awards. His first plane ride was a gift for his 11th birthday and from this blossomed a 50 year career in aviation in Columbus, Ohio. After service in the US Air Force, Gary and his wife, Jan, settled in Worthington with their growing family. Sailing became the young family's recreation, led by Gary's enthusiasm. The "second home" of the Savage family was (and is) Leatherlips Yacht Club where they have been members since 1968, and where Gary served as Commodore in 1987. For 26 years the Savage Family Regatta has been held – in which 5 sons and grandchildren vie for bragging rights! Gary enjoyed racing his "big boat" on Wednesday nights with his friends at the Alum Creek Sailing Association. Gary's pride in his sons was immense and he loved to spend time with them, working on projects (boats, cars, home maintenance, etc.) or speculating about the future. God speed, Gary! You have given us wings to soar with you!
Survived by wife, Jan; five sons, Scott (Lynn), Doug (Liz Beckman), Tim (Angela Earley, M.D.), Rick (JoAnne), A.J. (Jill); nine grandchildren, Claire, Michael, Brendan, Katelyn, Matthew, Cameron, Megan, Jason, Lucy.
Family will receive friends Wednesday, August 17, 2016 from 4-8 p.m. at RUTHERFORD CORBIN FUNERAL HOME, 515 High St., Worthington, 43085. Funeral Mass 10 a.m. Thursday, August 18, 2016 at St. Peter Roman Catholic Church, 6899 Smoky Row Rd., Columbus, Ohio 43235. Contributions in Gary's memory may be made to The Gary Savage Memorial Fund at Leatherlips Yacht Club, 9230 Shawnee Trail, Powell, Ohio 43065 or Honor Flight Columbus, PO Box 12036, Columbus, Ohio 43212. To send condolences to the family, and view the full obituary, please visit www.rutherfordfuneralhomes.com.