Obituary
Irving T. (Pete) LaFramboise, age. 79, of Columbus, died Saturday, February 24, 1996 at Riverside Methodist Hospital. He retired in 1974 as chief pilot with Wolfe Industries  following 30 years of service: Survived

by wife, Ruth; children, Michelle Widner, Peter T. (Nancy) LaFramboise, Patricia (Gary) Geiger, all of Upper Arlington: 9 grandchildren; 3 great-grandchildren; brother, John LaFramboise; sister, Mary Lou O'Toole, both of Chicago, Ill. Veteran. WW II pilot, Royal Air Force and U.S. Army Air Corps. There will be a private service only at his request. A memorial mass to be held: at a later date. In lieu of flowers, family request contributions be made to Children's Hospital Foundation, 700 Children's Dr., Columbus, Oh. 43205 in his memory. Arrangements by SCHOEDINGER NORTHWEST  CHAPEL, 1740 Zollinger Rd.
---
Dispatch Article
Irving T. "Pete" LaFramboise, a decorated World War II pilot, former trapeze artist and the first pilot hired for Wolfe Industries Aviation, died early February 24, 1996 at Riverside Methodist Hospital. LaFramboise, 79, suffered a stroke a week ago, said his daughter, Patricia Geiger.
The Upper Arlington resident retired from flying in 1973 after being injured in a motorcycle accident, said Michelle Widner, another daughter. LaFramboise, a Chicago native, was a champion gymnast and acrobat as a young man in Illinois. He was part of a team that performed trapeze stunts over Lake Michigan during a 1932 fair celebration, Widner said. The team member who was his catcher was Burt Lancaster, who later became a Hollywood film star. LaFramboise later performed with the Wallace Brothers Circus and Ringling Bros.
In 1939, he joined the Royal Canadian Air Force and was trained as a bomber pilot. When the United States became involved in the war, LaFramboise transferred to the U.S. forces. During his six years of service, LaFramboise flew 98 combat missions and logged more than 800 hours in the air. He was decorated by the governments of Britain and Canada as well as by the United States. Toward the end of the war, he became a test-pilot at the Curtiss-Wright plant in Buffalo, N.Y. He and his wife, Ruth, moved to Columbus in 1945 after LaFramboise was offered a job by the late Edgar T. Wolfe Sr.
Besides his wife and two daughters, LaFramboise is survived by a son, Peter T., five granddaughters, four grandsons and two great-grandchildren. LaFramboise had specified that his body be donated for medical research at Ohio State University and no funeral is planned, family members said.
Byline: Robert Albrecht
Dispatch Staff Reporter
---
"Mauled by a Maurader" is the painting below of the B-26 Maurader "Sexation" piloted by Pete LaFramboise
On 29 November 1943 when the B-26 groups attacked Chievres airfield, Sexation, a 553rd Bomb Squadron Marauder piloted by Captain Irving T. `Pete' LaFramboise, ran through a deadly concentration of flak which destr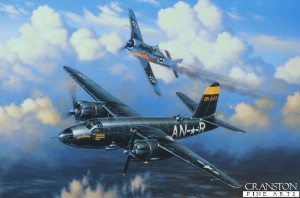 oyed the hydraulic system, damaged the right engine and so crippled the Marauder that it fell out of formation. As soon as it was beyond the protection of the squadron formation, Sexation was set upon by six enemy fighters. In their first pass, the fighters shattered the top turret, disabled the rudder and wounded the waist gunner. The tail gunner, Staff Sergeant William H. Norris, had one of his two tail guns disabled. Sexation's top turret gunner could only fire blindly from his shattered turret and the B-26 was damaged again by the fighters. The Marauder went in to several uncontrolled but brief dives. Norris was thrown violently from his position into the waist where he recovered, manned the waist guns and fought off two more fighter passes. Then he returned to his tail turret, shot down a second enemy fighter and, alternately firing waist and tail guns, kept the remaining fighters from getting too close until fighter escort was reached. The fighter attacks, however, had further critically damaged the Marauder, putting the left engine out of action and destroying the compass and other instruments. Despite all the damage and being kept in the air by only one damaged engine, LaFramboise and his co-pilot Robert Beckhoff flew the B-26 back across the English Channel. Unnecessary equipment was thrown overboard and they managed to get Sexation to RAF Mansion in Kent where LaFramboise made a smooth crash-landing, although the landing gear was jammed and the bomb bay doors open. Captain 'Pete' LaFramboise and Bill Norris, the two former aerialists, were awarded the Silver Star.