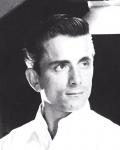 Richard M. "Dick" DePalma (PPA #462)
DePalma Richard M. "Dick" DePalma, age 83, passed away on Thursday, December 15, 2016, at Riverside Methodist Hospital.
Dick graduated from Grandview Heights High School and attended The Ohio State University, later retiring from Lane Aviation.

He served in the Army during the Korean War, was a member of the Guild Athletic Club, and was a well known local TV personality, known as "Paisan" with Gene Fullen and Sally Flowers.
He is survived by his wife, Jan; brother, Donald (Barbara) DePalma; nephew, Rich (Shirley) DePalma; nieces, Denise DePalma, Rebecca (Danny) Bevis and Emily (Zach) Butte; Godchildren, Brett and Angie Hathaway, David and Kristin Setzer, and Ben and Courtney Hathaway.
His family will receive friends on Sunday, December 18, 2016, from 2-5 p.m., at the JOHN QUINT TREBONI FUNERAL HOME, 1177 West Fifth Avenue (with a GAC service at 4:30 p.m.), where his funeral will be held at 11 a.m., on Monday, December 19, 2016. Entombment with Military Honors to follow at Kingwood Memorial Park Mausoleum, Lewis Center.
Condolences may be sent via www.johnquint.com.