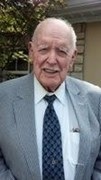 William Fearn Bohannan, age 97. 17 September 1921-19 January 2019. A resident of First Community Village, Bill departed peacefully but first waited for a visit from his Saturday morning breakfast buddies; pilots all. He "went west" within minutes of their visit.

Preceded in death by his parents Robert and Elizabeth Bohannan, and his wife of 71 years, Mary Jeanne Barricklow Bohannan. Survived by his son, William Fearn Bohannan, Jr; his daughter, Christine Scott Bohannan; and his grandson, Walker Jones Bohannan. Also survived by his dear friend, Teresamae Faricy.

Bill was a Renaissance Man, a World War II veteran, commercially rated airplane pilot (awarded the prestigious FAA Wright Brothers Master Pilot's Award for more than fifty years of safe flying) an airplane builder having restored many award-winning antique airplanes, sailor, rode motor cycles, worked on and drove race cars, marksman, licensed HAM radio operator, and a host of other endeavors.

He and his wife flew in their airplane to every state except Hawaii, Alaska and Maine but enjoyed cruises to those places of interest they could not reach in their airplane, including The Amazon and Australia. In 1938 as teenagers, he and his brother Bob kayaked the Danube from Munich through Nazi occupied Austria to Budapest.
A life-long resident of Upper Arlington, He graduated from University High School where he was a varsity swimmer and football player, attended Cornell University where in spite of his size, made the varsity rowing team, graduated The Ohio State University in 1948 with a degree in Mechanical Engineering and briefly taught an aviation course at Columbus State.
During his years working as a vice president, Denison division of ABEX Corporation, he was a member of the Columbus Rotary Club. Over the years his club affiliations included Civil Air Patrol, United Sates Power Squadron where he taught piloting and navigation, Aircraft Owners and Pilots Association, Experimental Aircraft Association, and Quiet Birdmen.
In accordance with his wishes, there will be no service. Contributions may be made in his memory to Canine Companions for Independence, Delaware Ohio.
"Death is life's last great adventure."–Charles A. Lindbergh

Published in The Columbus Dispatch on Jan. 29, 2019