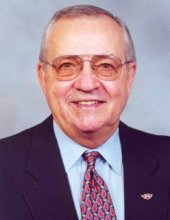 Jack Jay Eggspuehler, 86, passed away peacefully on April 30, 2016 at 9:15 p.m. with his three sons by his side. He was born on March 12, 1930 in Des Moines, Iowa.
He was a member of the Linworth Methodist Church for 56 years. He graduated from Rock Island High School in 1948. Jack earned his Bachelor of Science degree from the University of Illinois in 1954 and continued his education there with a Masters of Education. While in Champaign he met the Love of his Life, Joan Margaret Bye. He served in the United States Air Force during the Korean War from 1951-1953. With his wife, son Jay and their Boxer Rocky they moved to the Columbus area in 1958. It was at this time that Jack began managing Don Scott Airfield culminating in the formation of The Ohio State University Airport which became recognized as a leading Aviation Education facility. While at OSU, from 1958-1980, he was a member of numerous committees and recipient of many awards. Jack was the president of The Ohio State University Faculty Club and helped raise $11 million for the University's Endowment Fund. He also had the opportunity to fly Woody Hayes, Jack Nicklaus, Fred Taylor and Ed Weaver on many trips. He was a part of the Russian Pilot Exchange in 1972, 1976 and 1978 leading a group of flight instructors to meet with their Russian counterparts in the early days of Detente. Jack taught at OSU beyond his retirement as a Professor Emeritus. In 1967, he founded the National Association of Flight Instructors (NAFI) with the intent of providing national recognition of the professional flight instructor. He started Traveling Aviation Seminars, a ground school aviation company. With his wife Joan, he formed the aviation consulting firm Aerosafe Inc. Jack was one of the founders of Heartland Bank in 1988. Jack was a proud member of the Quiet Birdmen. He thoroughly enjoyed his life as a father, husband, pilot, professor, author, banker, developer, restaurateur and entrepreneur.
He is survived by his three sons Jay, Pete and Brad; and grandchildren, Kaia, Jake and Sedora. He is preceded in death by his parents Ike and Myrtle Eggspuehler, his wife of 51 years Joan, and by his grandchildren Blake and Grant born by his beloved daughter-in-law Christine.
Family and friends may call from 6-8 p.m. Tuesday May 3 at the RUTHERFORD-CORBIN FUNERAL HOME, 515 High St., Worthington, Ohio 43085. A Celebration of Jack's life will be held 1 p.m. Wednesday, May 4 at the Linworth Methodist Church, 7070 Bent Tree Blvd., Columbus, OH 43235 with Dr. Eugene Folden officiating. Burial will follow in Sunset Cemetery, Galloway, OH.
In lieu of flowers, contributions may be made to the E. Dorothy Peterson & Joan Bye Eggspuehler Memorial Scholarship Fund at Augustana College, Rock Island, IL, the Linworth Methodist Church, and NAFI.
To send condolences to the family please visit www.rutherfordfuneralhomes.com