Mark A. "Doc" Savage (PPA #206)
"A Pilots Pilot" Mark A. "Doc" Savage, age 74, died Sunday, May 4, 1997 in Marion from injuries sustained in an aviation accident.  A native of Harrison, N.Y. he was a 50 year resident of Columbus.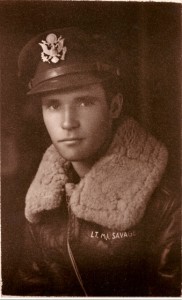 He is a graduate of Kent State University and served in WWII as a fighter pilot.  A retired corporate pilot, he was most recently the pilot for Hadler Reality.  "Doc" was an author and publisher and was a member of the P-51 Mustang Pilots Association, the Professional Pilots Association, The Air Force Association, the EAA (Experimental Aircraft Association).  He also serves as State of Ohio Governor of the Soaring Society of America.  While employed by the Ohio Department of Aviation he was instrumental in establishing many County Airports.
He is survived by his wife, Ruth, sons, Randy (Beth) of Delaware, Rick (Laumpoon) of Omaha, Neb., Russ of Columbus, Rod (Laura) of Dublin, daughter, Peggy Lou Savage of Columbus, 6 grandchildren, 4 brothers, 2 sisters.
Family will receive friends Saturday 5-10-1997 from 1-4 p.m. at the Med Flight Hangar at Don Scott Field, 2827 W. Dublin Granville Rd., where a remembrance service will be held at 2 p.m. followed by a time of food and fellowship.  Sharing of your favorite refreshment and memories would be treasured.  Shuttle service from OSU Airport is available.  Contributions may be made to Mark A. "Doc" Savage Memorial Fund c/o Star Bank, 1991 W. Henderson Rd., Columbus, Oh 43220.
Arrangements are by George Rodman of the OHIO CREMATION AND MEMORIAL SOCIETY. 840-0900.